AlertTile AlertCast Cast in Place Detectable Warning System 100 ct Case 2 x 3 foot Panel ADA Compliant AC-2436CS
SKU:

AC-2436CS

UPC:

Weight:

200.00 LBS

Shipping:

Free Shipping
Description
AlertTile® is the premier source for the most durable Detectable Warnings and Truncated Domes on the market. The nation's best resource for all types of detectable warnings, including Surface Applied systems for retrofitting existing wheelchair ramps and Cast-In-Place systems for new ADA construction applications. Their premier lines of Detectable Warning Systems exceed industry standards and are guaranteed to provide years of performance.
(Click here to see the ADA Requirements for Detectable Warning Systems)
AlertCast® Cast-In-Place Detectable Warning
AlertCast® is a glass-reinforced thermoset composite engineered for superior impact-resistance, slip-resistance, wear-resistance and long-term durability. Our exclusive design incorporates a top panel of truncated domes molded to exact ADA specifications for detectable warnings and bottom docking anchors that are embedded into wet concrete. Our proprietary PENETRATOR™ concrete anchors lock the part securely into the concrete without displacing aggregate or trapping air beneath the part's surface. This system is very lightweight and the panels maintain flexibility so they are easy and fast to work with during installations.
AlertCast® Detectable Warnings
Glass-reinforced thermoset composite engineered for excellent wear, strength and long-term durability.

Safety-etched surface provides excellent slip resistance.

Cross- section of truncated dome showing dimensions.

Perimeter beveled-edge provides safe transition for pedestrians.

Superior wet and dry slip-resistance.

In-line domes spaced on exact 2.35″ centers (ADA R304.1.2)

Proprietary PENETRATOR™ concrete anchors do not displace aggregate and ensure optimal bond to substrate without air or moisture pockets. Made from 100% recycled materials and secured with #14 stainless steel square drive screws.

Exact required detectable warning length.

Exact required detectable warning width.
* Colors shown for illustration purposes only
Available in:
Black

Yellow

Dark Grey

Red

Colonial Red
Custom Colors available, subject to minimum quantities
Please call for information on Bulk Orders
AlertCast® Detectable Warnings Specification Sheet: 100 ct BOX
Property

ASTM Standard

Result

Slip Resistance

C 1028

0.85

Wear Resistance

ASTM C 501

83 grams or 0.0107″

Impact Resistance

D 256

8.0 Izod ft-ibs / in (notch)

UV Resistance – Fade

Cap Y (LVR)

Brick Red 5-15 Safety Yellow 25-50

Water Absorption

0.3 – 0.6%

Compression Strength

D 695

30,000 psi

Flexural Strength

D 790

18,000 psi

Tensile Strength 1/8″

D 638

9,000 psi

Color

Integral Throughout Product

Yes

Dome Height

0.2″

Yes

Dome Base Width

0.9″

Yes

Dome Top Diameter

0.45″

Yes

Dome Spacing

2.35″

Center-to-Center

UL Flammability

UL 94 V-0

94V-0@3/32″

Flame Resistance Seconds
Ignition Time
Burning Time

D-229

120
65

Flame Spread Index, 1/4″

E84

‹25

Freeze-Thaw Durability / Penetrator® Anchor Pullout Strength

C 1262-08

Pass

PulloutStrength: 729 PSI per Penetrator Anchor
Some of the properties published are based on tests performed on standard, unaltered composite materials and are believed to be conservative. Where specific or unusual applications are needed, tests should be made on actual parts, and test procedures agreed upon between Cape Fear Systems, III. LLC and the customer.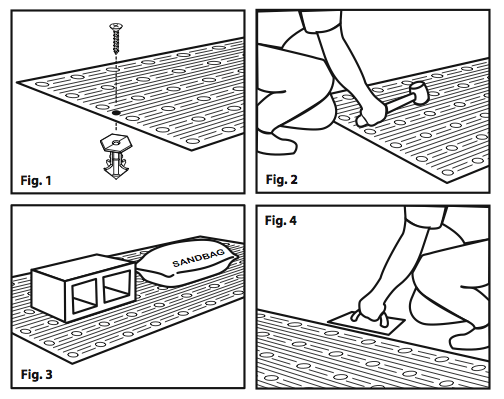 AlertCast® Installation (see above diagram)
Confirm placement of concrete ramp is in full compliance with Federal, State, local standards, building codes, project plans and specifications prior to installation of alertcast panel. Refer to alertcast's website for compliance documents www.alert-cast.com.

Concrete physical characteristics shall be consistent with project specifications while maintaining a slump range of 4 – 7 inches to ensure a solid and stable base for the alertcast panel.

Allow concrete to set up to a semi-solid-state prior to installing alertcast panels. Alertcast PENETRATOR TM anchors are specifically designed to enable ease of installation while providing enhanced holding features. (Figure 1)

Place the alertcast panel 6 – 8 inches from the curb line. Using a rubber mallet, tap the alertcast panel down flush with the level of the adjacent concrete surface. Note: The embedment process shall not be accomplished by stepping on the panel as this may cause uneven setting which can result in air voids beneath the panel. (Figure 2)

Place cinder blocks or similar counter-weights on panel to prevent it from "floating" during the curing process. Fifteen minutes after installation re- check the panel to ensure the proper level has been achieved. (Figure 3)

Once satisfied the alertcast panel installation is per code and project drawings, finish the concrete ramps and walks per project finishing specifications. During the concrete curing stage, avoid standing or walking on the alertcast panel.

While concrete is workable, create a finished edge expansion joint around the panel perimeter. (Figure 4)

Once the concrete is cured and ready for pedestrian traffic, remove counter-weights and any protective plastic covering. It may be necessary to cut the plastic covering with a sharp knife.
View All
Close