AlertTile AlertMat Flexible Surface-Applied Detectable Warning System 100 ct Case 2 x 4 foot Panel ADA Compliant AM-2448CS
SKU:

AM-2448CS

UPC:

Weight:

200.00 LBS

Shipping:

Free Shipping
Description
AlertTile® is the premier source for the most durable Detectable Warnings and Truncated Domes on the market. The nation's best resource for all types of detectable warnings, including Surface Applied systems for retrofitting existing wheelchair ramps and Cast-In-Place systems for new ADA construction applications. Their premier lines of Detectable Warning Systems exceed industry standards and are guaranteed to provide years of performance.
(Click here to see the ADA Requirements for Detectable Warning Systems)
AlertMat® is virtually indestructible. AlertMat® is made from Styrene Butadiene (SRB), which is the same rubber compound used by auto and truck tire companies throughout the world. This material is also used in cattle stall flooring, weight room mats, wheel flaps, truck bed liners and V-belts in engines-it's undoubtedly one of the toughest rubber materials available.
Mixed into our compound are nylon, rayon and polyester fibers that give AlertMat® superior strength and wearability. Ultraviolet inhibitors and anti-oxidants are added as well, providing excellent sun and abrasion resistance and assuring you years of dependable service.
AlertMat® is made from 100% recycled materials, so even though it offers superior durability, the cost savings is substantial and also qualifies for L.E.E.D. credits.
AlertMat's® thin surface profile and perimeter beveled edge provide pedestrians a safe transition from all surrounding surfaces. AlertMat® has a flexible, one-piece design that readily conforms to irregularities of existing concrete ramps. For more custom installations, the mat can be easily trimmed in the field to form a detectable warning surface around utility poles, manhole covers and other special requirements.
AlertMat® Detectable Warnings Specification Sheet: This a Case of 100 Mats
Property

ASTM Standard

Result

Slip Resistance

C 1028

Dry = 1.14 / Wet = 1.03

Wear Resistance

D 658

See Below References*

Impact Resistance

D 3029, Cold, Hot & Ambient

See Below References**

Adhesion Bond Strength

C 482

Dry = Concrete FracturedWet = Concrete Fractured

UV Resistance – Fade

G 151 / G 154

No Change

Water Absorption

D570

Average d-w(%) 0.52

Chemical Resistance

D 543

No Reaaction / Change

Stain Resistance

D 2299

No Reaction / No Stain

Freeze – Thaw Cycling

D 1037

No Effect

Salt and Spray Performance

B 117

No Deterioration

Tensile Strength

D 412

992.9 psi

Flame / Smoke Resistance

FMVSS 302

24 Pass

Tear Resistance

D 624

With Grain, Min = 251.73
Across Grain, Min = 370.31
Note:
* After one minute of sand blasting using silica sand, a two-inch nozzle-to-surface distance, one quater-inch internal nozel diameter and 80-pound air pressure. [ Result: 0.00 ]
** Test involved dropping a two-pound steel ball weight from a eight-foot height at ambient, cold (-30 degrees F) and hot (+120 degrees F) temperatures exposure was 48 hours. [ Result: No Mark ]
Please call for information on Bulk Orders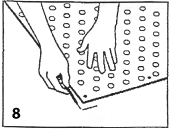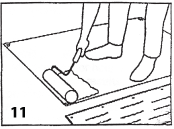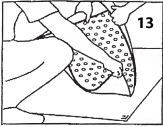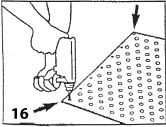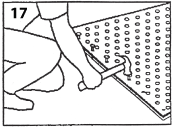 AlertMat® Detectable Warnings Installation (see above diagram)
Tools and Equipment Needed:
One AlertMat® detectable warning mat

Hammer drill with 3/16″ x 3″ concrete bit

Short nap non-absorbent paint roller and pan

Trimming tool if necessary, e.g. heavy duty shears

Soapstone or carpenters pencil

AlertMat® adhesive
AlertMat® anchors
AlertMat® sealant

Standard hammer

Caulking gun

Broom

Masking tape or duct tape
Prior To Installation:
Place appropriate barriers and/or warnings to pedestrians or vehicles as directed by your organization. Remember, safety first!

Determine the correct location for installation of the

AlertMat

®

detectable warning as required by the ADA and your governing authority.

Surface Preparation and Mat Positioning:

Surface must be completely dry with no precipitation at least 24 hours prior to installation.

It is recommended that the adhesive be applied at temperatures over 40 F (4 C).

Surfaces with newly poured concrete must be fully cured.

Sweep the installation surface clean. For best results, the surface should be free of oils, sealants, grease, vegetation, sand, soil, dust and loose aggregate. Patch any holes or cracks as necessary prior to installation.

Place the mat in position on the installation surface and adjust fit until satisfied.

Mark the concrete at each mat corner. These marks will be used later to reposition the mat after adhesive has been applied.

See illustration 8

Using either soapstone, pencil or masking tape, outline the concrete around the perimeter of the mat at least 1/4″ from the mat's edge. Outline this area on all sides and for the complete length and width of the mat to ensure the area beneath the mat receives an adequate amount of adhesive.

Remove the mat and place it dome-side down away from the installation surface. Clean back of mat and make sure mat and walkway are free of dirt and dust.

Applying Adhesive:

(Caution: As with any chemical, read and follow directions on container)

Using a short nap paint roller and pan, apply a thin, uniform coat of adhesive to the back of the mat and the installation surface. Cover both surfaces completely and evenly. Keep adhesive within mat outline.

See illustration 11

Allow adhesive to dry until neither surface is tacky to touch (approx. 10-15 minutes, depending on the weather). Adhesive should be dry to the touch, but tacky. (Note: Do not wait more than 30 minutes)

Placing the Mat:

AlertMat

®

adhesive bonds instantly, so pieces must be positioned accurately as contact is made! Using the marked corners from (#8 above), align the mat's corners with the marks on the concrete.

See illustration 13

Slowly and carefully press the mat down from one end to the other, working air bubbles out from the center to the outer edges. Make sure the mat falls within the glued outline. Avoid stretching the mat and do not reposition the mat once adhesive-coated surfaces have come in contact. If adhesive is disturbed, apply a new coat to disturbed area.

See illustration 14

When mat is in place, walk on the mat from the center to the edges, along the domes, between the domes and along the beveled edges to assure solid contact.

Installing Anchors:

AlertMat

®

comes with pre-drilled anchor templates to ease installation! Using a hammer drill, drill a 1- 3/4″ deep by 3/16″ diameter hole through each anchor template in the perimeter of the mat. For best results, holes should be perpendicular to the concrete surface. Remove concrete dust from hole and mat with broom.

See illustration 16

Insert an

AlertMat

®

anchor into each hole and hammer into position. Do not over tighten. Anchors should not be driven into the mat or cause compression or distortion of the mat material. Never place anchors in domes.

See illustration 17

Complete the

AlertMat

®

installation by applying a small bead of sealant along the outer edges of the mat.

AlertMat

®

detectable warnings can be walked on immediately after installation. Adhesive should be completely cured in about 72 hours. Notice: Use only adhesive, sealer and anchors provided with

AlertMat

®

.
View All
Close