AlertTile Surface-Applied Detectable Warning System 100 ct Case 2 x 3 foot Panel ADA Compliant 2436-ATCS
SKU:

2436-ATCS

UPC:

Weight:

24.00 LBS

Shipping:

Free Shipping
Description
AlertTile® is the premier source for the most durable Detectable Warnings and Truncated Domes on the market. The nation's best resource for all types of detectable warnings, including Surface Applied systems for retrofitting existing wheelchair ramps and Cast-In-Place systems for new ADA construction applications. Their premier lines of Detectable Warning Systems exceed industry standards and are guaranteed to provide years of performance.
(Click here to see the ADA Requirements for Detectable Warning Systems)
AlertTile® Truncated Domes easily retrofit wheelchair ramps to comply with ADA standards.
Glass-reinforced thermoset composite engineered for excellent wear, strength and long-term durability.

Safety-etched surface provides excellent slip resistance.

Cross-section of truncated dome showing dimensions.

Perimeter beveled-edge provides safe transition for pedestrians.

Innovative safety spars reinforce panel strength and increase traction for pedestrians.

In-line domes spaced on exact 2.35″ centers (ADA R304.1.2)

anchor holes speed installation.

Exact required detectable warning length.

Exact required detectable warning width.

Durable HILTI HUD-1 anchor and stainless screw lock product securely in place.
AlertTile® Detectable Warnings Specification Sheet: This is a 100 ct Case
Property

ASTM Standard

Result

Slip Resistance

C 1028

0.85

Wear Resistance

ASTM C 501

83 grams or 0.0107″

Impact Resistance

D 256

8.0 Izod ft-ibs / in (notch)

Adhesion Bond Strength

C 482

152 psi

UV Resistance – Fade

Cap Y (LVR)

Brick Red 5-15 Safety Yellow 25-50

Water Absorption

0.3 – 0.6%

Compression Strength

D 695

30,000 psi

Flexural Strength

D 790

18,000 psi

Tensile Strength 1/8″

D 638

9,000 psi

Color

Integral Throughout Product

Yes

Dome Height

0.2″

Yes

Dome Base Width

0.9″

Yes

Dome Top Diameter

0.45″

Yes

Dome Spacing

2.35″

Center-to-Center

UL Flammability

UL 94 V-0

94V-0@3/32″

Flame Resistance Seconds
Ignition Time
Burning Time

D-229

120
65

Flame Spread Index, 1/4″

E84

‹25

Freeze-Thaw Durability

C 1262-08

Pass
*Some of the properties published are based on standard glass-reinforced composite materials and are believed to be conservative. Where specific or unusual applications are needed, tests should be made on actual parts and test procedures agreed upon between Cape Fear Systems, III. LLC and the customer. Please reference the AlertTile® and AlertCast® Warranty for specific warranty information. Please call for additional information and product specifications.
Available in:
Black

Yellow

Dark Grey

Red

Colonial Red
Custom Colors available, subject to minimum quantities
Please call for information on Bulk Orders
AlertTile® product contents
AlertTile® detectable warning panel (qty. 1)

Concrete Anchors: #14 x 1-1/2″ Flathead Stainless Steel Tapping Screws / HUD-1 8 x 40 Nylon Anchors

One-part BASF NP-1 Sealant / Adhesive (qty. 1)
Tools and Equipment Needed
One AlertTile® detectable warning panel

Hammer drill with 5/16" x 3″ concrete bit (or 8mm)

AlertTile® adhesive / sealant (BASF NP-1)
AlertTile® anchors

Caulking gun and sealant edging tool

Broom

Masking tape or duct tape

Concrete Grinder
Installation: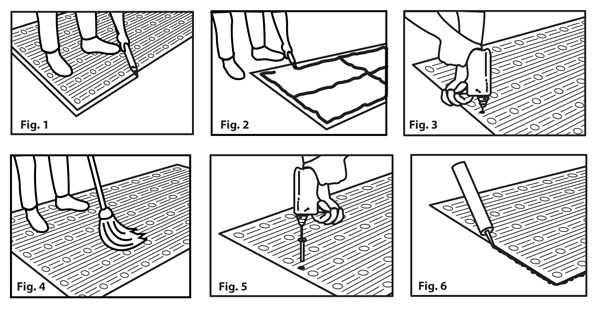 Confirm that the concrete substrate is in full compliance with Federal, State, local standards, building codes, project plans and specifications, prior to installation of the AlertTile® panel. Refer to the AlertTile® website for compliance documents.

www.AlertTile.com

.
Installation surface area must be cleaned of debris, dust, oil, grease and concrete laitance, making sure the area is completely free of surface moisture. We recommend using a diamond cup grinder, pressure shot-blaster or (at a minimum) use of a wire brush to remove any dirt or foreign material. Note: Any application over newly poured concrete should have a minimum cure period of 30 days.
Lay out the panel on the concrete substrate and mark around the panel corners with a pencil to identify the designated installation location. (Figure 1) (not recommended or warranted for asphalt installations).
Remove the panel from the marked installation area, flip over and apply a continuous bead of NP-1 adhesive to the back of the panel approximately 3/4″ from the edge following the scored perimeter and center cross pattern. (Figure 2)
Place panel in marked installation area. Make necessary adjustment prior to fastening. Standing on the panel using a hammer drill with a 5/16″ carbide tipped bit, drill a hole a minimum of 2″ deep. (Figure 3) Clean drilling debris from holes. (Figure 4)
Beginning in the middle and working your way towards the edges, insert anchors and #14 stainless screws into the pre-formed countersunk fastener locations. Using a #3 square head bit, apply downward pressure with a screw gun and press firmly until the anchor goes through the panel and is flush with the surface of the concrete substrate. Tighten the screw until the screw is in full contact with the countersunk fastener surface of the panel. (Figure 5)
Following panel installation, caulk around the perimeter of the panel with NP-1 or equivalent. Blend and taper the caulking smooth around the perimeter in a cove profile between the tile and adjacent substrate. (Figure 6)
View All
Close